Tinnitus Treatment in Sherman Oaks, CA
Receive Breakthrough Treatment for Tinnitus with Hearing Loss Solutions
For some people, the presence of tinnitus is troubling, so their brain focuses on it and treats it as important, which increases awareness. This "increased awareness" can lead to stress, resulting in further enhancement by the emotional centers of the brain, and further amplification of the tinnitus. Additionally, the brain can try to compensate for the hearing loss by "turning up" the sensitivity of the hearing system. This not only amplifies the tinnitus but can also make ordinary sounds uncomfortably loud for some people, further adding to stress and anxiety. The result is a cycle of symptoms that can be self-reinforcing, leading to progressive worsening of the tinnitus over time. These factors have made tinnitus very difficult to treat in the past. The good news is that we use a breakthrough tinnitus treatment in Sherman Oaks, CA, that can significantly reduce tinnitus awareness and disturbance for over 90% of suitable patients affected by tinnitus.
Terry shares that Dr. Cohen's care has changed
his life after suffering from tinnitus for 2 years.
What Is Tinnitus?
While tinnitus typically begins with a hearing loss, it is not exclusively an auditory problem. It is a result of neurological changes within the auditory system and within the parts of the brain that influence conscious attention and emotional state. No single explanation applies to all cases, but the process outlined below describes one of the more commonly accepted theories about what causes tinnitus. When the natural balance is upset by a hearing loss, the neurological activity is altered, and this altered activity is then interpreted by the brain as sound. This results in whistling or ringing sound commonly known as tinnitus.
Tinnitus most commonly results from hearing loss caused by exposure to excessive or loud noises, however, it can also be caused by aging, ototoxic drugs, Temporomandibular joint disorder (TMJ), depression, anxiety, Lyme disease or thyroid disorders, as well as ear infections or wax in the ear. Normally, background neurological activity in the brain is covered up by everyday sounds. Neurological changes may then cause the perceived sound to be more noticeable and disturbing.
"Dr. Cohen is one of the kindest, most understanding and most proactive health professionals I've ever worked with. She's deeply committed to her patients' health, healing and general well-being, and has worked side-by-side with me to find long-term and current solutions for my tinnitus issues, knowing that providing support and encouragement on the journey is just as important as any medical assistance. She's truly in touch with her patients' needs and emotions, and is incredibly thorough with testing, options and ideas. I had been looking fruitlessly for someone to at least show me there was some hope for my tinnitus situation; and in her I've found someone who has helped me believe there's a way to get things not just to a manageable level, but perhaps even to eliminate it entirely. I've already seen significant improvement and that alone gives me encouragement. I would recommend her to anyone in my situation. She is truly suited for this field and I'm grateful to have found her."

– Rachel R.
How Do Hearing Experts Treat Tinnitus?
Although there is no cure for tinnitus, Audiologists, scientists, and doctors have discovered several treatments that may give you some relief. Not every treatment works for everyone, so you may need to try several to find the ones that help.
Treatments can include:
Hearing aids: Most people with tinnitus have some degree of hearing loss. Hearing aids create a dual benefit of enhancing hearing and masking or covering up the tinnitus. The majority of patients with tinnitus receive partial or complete relief from their tinnitus with the use of hearing aids.
Maskers: Tinnitus maskers are small electronic devices that look like hearing aids and are tuned to generate sound that masks or covers up the tinnitus. Like hearing aids, they may provide relief from the tinnitus, but will not enhance hearing and may interfere with understanding speech.
Many types of devices, such as fans, radios, and sound generators can be used as tinnitus maskers to help tinnitus sufferers to fall asleep or get back to sleep.
Medicine or Drug Therapy: As a tinnitus sufferer you may develop anxiety and other strong emotional responses to your tinnitus. Certain medicines may provide relief from these emotional reactions and provide some relief from the tinnitus. Other medicines and nutritional supplements can provide additional relief.
The Levo System: This neuroscience-based therapy works by acclimating each patient to a specific sound. Each patient's tinnitus is matched in sound quality and volume and that matched sound is played through earbuds while the patient sleeps to allow the brain to recognize the sound and start to decrease it.
While there is currently no cure or remedy to stop tinnitus outright, "learn to live with it" is not an acceptable solution. Utilizing an FDA-cleared neuroscience-based approach, the Levo System is a personal and patented nightly sound therapy designed to improve the quality of a patient's daily life.
Desyncra Sound Therapy: This research-based therapy works by disrupting the tinnitus neural signal to the brain. The patient listens to chirps in the ears 6 hours per day and, over time, tinnitus decreases as the neural signal is interrupted. Desyncra is an effective treatment for tonal tinnitus.
Desyncra for Tinnitus: A New Treatment for Tinnitus
The Listening Program® SLEEP: Technology created by a neuroscientist, clinically tested, and shown to be 77% effective. The acoustically modified music provides soothing, unobtrusive, instrumental music with subtle sounds of nature and ambient music that trains the brain to improve sleep regulation. Embedded within these beautiful recordings are proprietary neurosensory algorithms that produce sleepiness. The result is a sleep that's natural, easy, restful, and refreshing.
How The Listening Program SLEEP Works
The technology behind this program of research in hearing, balance, and sleep by neuroscientist Seth Horowitz, Ph.D., is a new approach to helping people of any age go to sleep more quickly and stay asleep longer. TLP SLEEP uses three kinds of sound that work directly on the brain in different ways.
Very low-frequency sounds activate the vestibular system to trigger Sopite syndrome, the motion-induced sleepiness that babies experience while being rocked and that most people feel while riding as a passenger in a car or on a train.
Quiet "pink" noise shaped to match the sound signatures of heartbeats and breathing reduces activity in the brain's arousal centers to encourage relaxation.
Binaural beats — slightly different sound frequencies delivered to each ear to trigger frequency-following response between the brain's hemispheres help the brain match the waveforms that characterize the stages of sleep.
The Sound Pillow® Sleep System: A personal audio device consisting of a plush, hypoallergenic pillow with two virtually undetectable stereo speakers buried deep inside. The Sound Pillow is engineered for total comfort with great stereo sound. You can simply plug the pillow's standard headphone jack into a personal listening device (CD player, MP3 player, iPod, iPhone, sound machine, laptop, etc.), lie back and enjoy a restful night's sleep without disturbing your roommate or bed partner.
The Sound Pillow Sleep System pairs the Sound Pillow with a very easy-to-use MP3 player pre-loaded with 18 one-hour tracks of sleep-inducing binaural music, nature sounds, and white, pink, and blue noise files. The soothing sounds and music were designed to relax the body and "slow down" the brain to help promote sustainable sleep. The Sound Pillow Sleep System is an affordable, natural solution for sleep deprivation caused by tinnitus, past traumatic experiences, anxiety, and the stresses of everyday life.
Alternative Therapies
There are several alternative therapies that can be used to bring relief to those with tinnitus. We work with each individual to come up with a plan that is most suitable for that person.
Some of our alternative therapies include:
Neuromonics Tinnitus Therapy: The good news is that Neuromonics has developed a breakthrough treatment that can significantly reduce tinnitus awareness and disturbance for over 90% of suitable patients affected by tinnitus. This treatment uses a combination of testing, counseling, and specialized masking to help you to effectively manage and gradually reduce your response to the tinnitus. This treatment can take six months or more to complete but has the highest rate of success.
Counseling: If you have tinnitus you may experience anxiety, depression, and other psychiatric problems. You may be referred to a psychiatrist our counselor as needed. We're proud to offer these services in-house, through our own Dr. Sharona Cohen, a top-rated psychologist and marriage and family therapist.
Relaxing: Learning how to relax is very helpful if the noise in your ears frustrates you. Stress makes tinnitus seem worse. By relaxing, you have a chance to rest and better deal with the sound.
"Dr. Cohen is a very nice, knowledgeable & professional doctor. Highly recommend her."

– Mona Y.
Do You Suffer from Sound Sensitivity?
Hyperacusis, or sound sensitivity, is a life-altering hearing condition that causes increased sensitivity to noise. People suffering from this condition can experience discomfort, anxiety, or even pain in one or both ears as a result of everyday noises such as running water, crunching leaves, or a ringing telephone. Aversions to these and similar sounds can cause interruptions in your daily life and problems in social situations. There is hope, however! Hearing Loss Solutions offers cutting-edge treatment for sound sensitivity in Sherman Oaks, CA.
What Causes Hyperacusis?
Hyperacusis is not something people are born with, but rather develop as a result of a health issue or traumatic event. Common causes include:
Head injury
Viral infection
TMD (temporomandibular disorder)
Migraine headaches
Damage from medications, such as Valium
Epilepsy
Chronic fatigue syndrome
Meniere's disease
Post-traumatic stress disorder
Depression
Autism
Exposure to loud noise
 

"Dr. Cohen is a kind, compassionate and caring audiologist. She's up to date with the latest in everything, and her offices are superbly equipped. She gives you plenty of face-time with her and makes you feel both welcome and well-served. I travel from Santa Barbara to see Dr. Cohen. In truth, given how wonderful she is, I would travel a lot further. You will be reassured that everything that can be done for your condition, is being done. Heartily recommend."

– Richard P.
Available Treatments
Studies show there is a similarity between tinnitus (ringing in the ears) and Hyperacusis, with patients responding positively to similar treatments. Currently, available treatment methods include hearing aids, earplugs, counseling, certain medications, and sound therapies like  The Sound Pillow® and The Sound Pillow® Sleep System.
The Sound Pillow® – a personal audio device consisting of a plush, hypoallergenic pillow with two virtually undetectable stereo speakers buried deep inside. The Sound Pillow is engineered for total comfort with great stereo sound. You can simply plug the pillow's standard headphone jack into a personal listening device (CD player, MP3 player, iPod, iPhone, sound machine, laptop, etc.), lay back and enjoy a restful night's sleep without disturbing your roommate or bed partner.
Read The Recent Article With Dr. Cohen About Tinnitus Here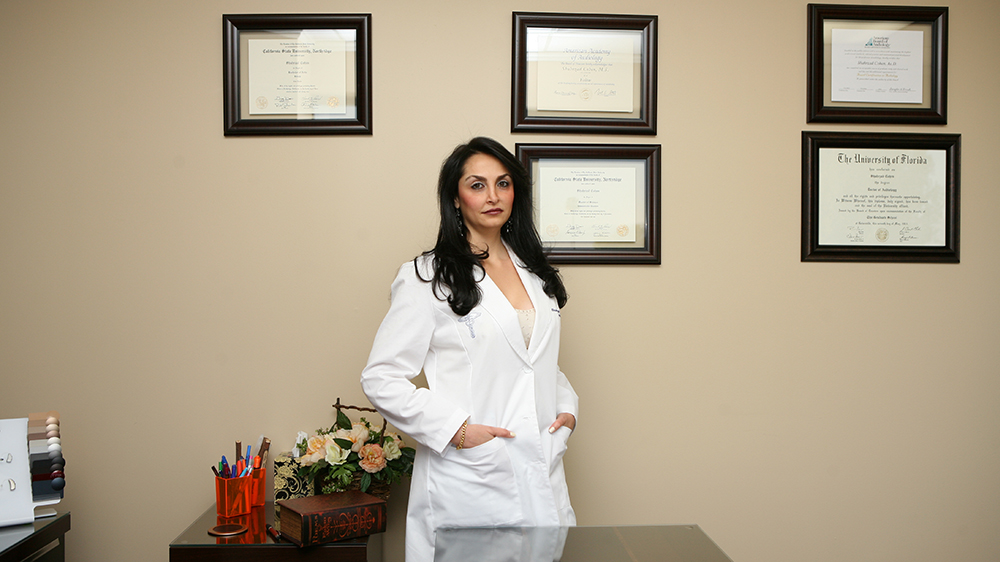 Schedule an Appointment for Sound Sensitivity or Tinnitus Treatment in Sherman Oaks, CA, Today
To learn more about our 5-star treatments, schedule your Hearing Loss Solutions Consultation today! Simply call our friendly office at 818-989-9001 or click here to use our convenient online scheduling form. Your appointment includes a review of your medical history, a discussion of your concerns and goals, and an explanation of our process.
During your new patient appointment, we will make sure all of your questions are thoroughly answered about our office, our treatments, our flexible payment options, and anything else that you would like to know about us. Call today – we can't wait to help restore sound to your world!
As one of the premier hearing centers in Sherman Oaks, CA, our Audiologist and team at Hearing Loss Solutions also provide 5-star-rated hearing care to patients from Encino, Beverly Hills, Studio City & Calabasas, CA, and surrounding areas.